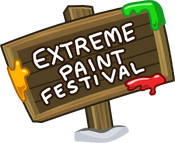 Today I will be reviewing the Extreme Paint Festival mini event. It will be reviewed upon these categories… Visual Design, Content and Storyline. Please note that a lot of my opinions are in this post, and you don't have to agree with them.
---
Visual Design at this mini event, which is at the Dock, is quite good. There are balloons, flags and paint splotches everywhere. There is also a giant piece of cloth covering something... With paint
splotches
on that.
This event had 0 items to collect, though you could throw paint around the room, and on the blank canvas, to create masterpieces!
This event had been mentioned in the Club Penguin Times two weeks before its arrival. This event basically came out of nowhere.
Operation
Crustacean
is connected to this event.
This event had no glitches.
The total score of this event is 23/40, which is 58%. An okay-ish result!